Plantation Shutters in Adelaide.
Plantation Shutters have grown to become one of the most popular choices of window furnishings in the home interior and window coverings industry.
They are a smart and elegant covering treatment for window and doors with additional benefits beyond aesthetics.
We can create custom made shutters that will fit virtually any window shape and size.
What sort of homes do they suit?
Plantation shutters provide the versatility of creating a traditional feel or the much desired minimalist look when used as the alternative to curtains and blinds. They are particularly well suited to period homes such as Villas, Tudors or Bungalows as well as homes along the seaside but we're finding them to be particularly on trend with brand new home builds too!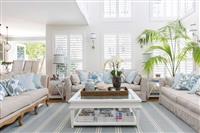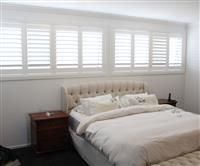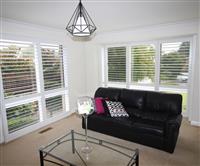 What materials do you use?
Our stunning interior plantation shutters are available in PVC or Polymer and Basswood.
They have fantastic insulation properties!
Fancy reducing your energy bills? Us too! When closed, plantation shutters provide an extra layer of wood (or PVC) between the window and the inside of your home. This acts at reducing the loss of heat through the glass during winter and keep the heat out during Summer. Good news right?!
What about the colours?
Customers love the colour of crisp white plantation shutters which are really well suited to rooms styled with a fresh, airy palette of white-washed linens, natural textures, ocean inspired blues and freshly painted white timber finishes! Simply stunning!
There is however a range of light to dark wood tones, greys and even black to choose from! The choice is yours!
How much are plantation shutters then?
When it comes to pricing your plantation shutters, we would need to consider the window's size as well as the materials you choose which is why we offer a free measure and quote service. However, as an example, a window that is 1200 x 2m in size, would be approx $1000.00 per shutter for PVC and approximately $1200.00 for Basswood.
Note: There are cheaper products on the market that use poly coated vinyl, but we steer clear of these due to them being of poorer quality. Our motto is that we only manufacture and install products of the same quality that we would install in our own homes. Quality materials and componentry are therefore used every step of the way.
So what are you waiting for?
We offer a wide range of beautifully crafted window furnishings for every room of your home, (indoors and out) so if you would like to request a free on site measure and no obligation quote in Adelaide for plantation shutters, please contact one of our friendly staff to arrange a time today.